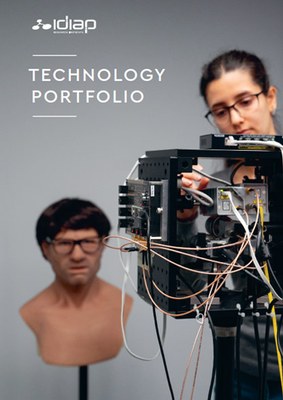 Please download our "Technology Portfolio & Corporate Sponsorhip Program" report here.

Idiap is committed to the transfer of knowledge and technology to the business community through active engagement and partnership. The institute's Technology Transfer Unit works in close collaboration with businesses to realize joint research and sponsored development programs in Idiap's chosen fields of research. From small start-ups to large corporations, the Idiap Research Institute is an ideal partner when it comes to avant-garde technology and research. Technology transfer is one of Idiap's three core missions, alongside fundamental research and education . "Technology transfer" means, for Idiap, the process that leads technology (software, algorithms, knowledge, and expertise) to be transferred from the institute to an industrial partner or spin-off for the purposes of economic development. This transfer is usually effected by granting rights with regard to the commercial exploitation of a technology, in the form of a license. We can therefore consider the process of technology transfer to be the creation of economic value out of scientific discoveries. If the concept sounds simple, the path that leads from a technology demonstrator to an industrial product is highly complex. One reason for this is that researchers and industry players do not "speak the same language", and that their respective aims could be entirely different. One of the fundamental challenges in technology transfer is to facilitate the interface between the knowledge and skills of the researcher and the needs of the industrial partner. Idiap has addressed this challenge by creating a pluri-disciplinary team of developers and programmers dedicated to technology transfer. Also, the incubator IdeArk, an Idiap spin-off, has the mission to enhance Idiap's technologies and promote the emergence of new start-ups by providing workspace, financing, and mentorship.
CORPORATE SPONSORSHIP
While Idiap is highly active in fundamental research and in the development of large collaborative research programs, we are also proud to be very much system driven—that is to say, driven by shared long-term visions and continuous by-product applications . We continuous seek to foster our interaction with industry, through:
Collaborative projects

Idiap is currently running several (mostly tightly focused) research projects directly funded by industry. In this model, the project is precisely defined in collaboration between the two parties and the resulting intellectual property rights (IPRs) are discussed on a case-by-case basis.

The creation of spin-offs or the incubation of start-ups

In collaboration with the Canton of Valais, Idiap has set up its own technology transfer and start-up incubation instrument in the form of an independent company—IdeArk. For more information, see http://www.ideark.ch.

An exchange program

Although also part of the current Corporate Sponsoring Program (limited to industries), Idiap has set a large scale international visitor program.

A Corporate Sponsorship Program

We have several levels of corporate sponsorship programs, starting with Support Members (10'000 CHF/year), up to Research Partners (involving longer-term financial and collaborative commitments). For more information about such collaboration opportunities, please download our Technology Portfolio here or contact our Technology Transfer Office (tto@idiap.ch).