Idiap organizes an Open Day to offer the general public the opportunity to meet with our researchers and to discover our scientific activities. These events are organized at Idiap and are free.
Discover below our Open Day latest edition organized during our 30th anniversary.
| | |
| --- | --- |
| | Program of the day (in French) |
Rez-de-chaussée

A. Escape game (inscriptions à l'accueil 45 min avant chaque séance, dès 12 ans)
B. Dégustation des vins de la Kave 1921 de Martigny et de la cave des Jumeaux de Martigny.
C. Bar à sirops Morand
D. Foodtrucks
E. Essais de voiture électrique Polestar: inscriptions
F. Conférence Dalle Molle: inscriptions
1er étage

G. TEDx vs. Intelligence artificielle + carnotzet scientifique à 11h
H. Nos start-up font leur show
I. Eclairé par l'intelligence artificielle
J. Les ordinateurs portent-ils des lunettes ?
2ème étage

K. Comment reconnaître un visage ?
L. Tromper la reconnaissance faciale avec un masque
M. L'intelligence artificielle mène l'enquête
N. Apprenez les langues avec l'intelligence artificielle
O. Est-il plus difficile de reconnaître un visage féminin ?
P. Air Guitar, quel est votre style en tant que guitariste ?
3ème étage

Q. Siri peut-il aider les contrôleurs aériens ?
R. Quel est le sujet ? L'ordinateur répond
S. Apprenez une langue des signes
T. Atelier dessin enfants
U. Coin café avec Eversys
U". Voir avec les oreilles
4ème étage

V. L'intelligence artificielle peut-elle prévoir une invention ?
W. C'est quoi un serveur ?
X. Parler à un robot ?
Y. Robot caricaturiste
Retrouvez également sur les quatre étages une exposition scientifique et les portraits de chercheurs par le photographe Claude Dussez. Ce dernier sera présent pour présenter l'exposition à 14h dans le hall.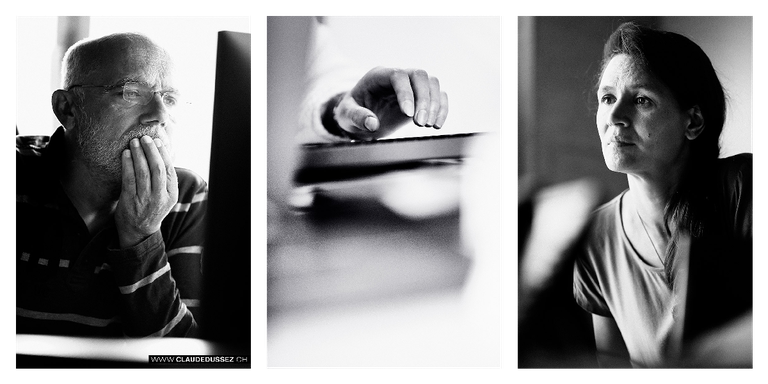 L'exposition photographique est réalisée avec le soutien de FIDAG et du Groupe Mutuel.