Center for Biometrics Research and Testing
Idiap hosts the Center for Biometrics Research and Testing, seed-funded by the Canton of Valais and the City of Martigny, since 2014. By creating this center, the institute was able to anticipate upcoming the certifications and legal frameworks that regulate biometric technologies. Building on the expertise at Idiap, the mission of the center is to propose a testing service in the area of biometric security. The center is now accredited by the FIDO Alliance (open industry association aiming to develop and promote authentication standards) to conduct certification of biometric products. It is also attracting collaborations with companies and various organizations.
Center for AI Certification
The Center for AI Certification will undertake fundamental research in lineage, fairness, interpretability, and robustness of AI models; and will contribute actively to international standards on AI, including the adoption of metrics, performance assessment and reporting. Europe already harbors the General Data Protection Regulation (GDPR) and adopted the Artificial Intelligence Act (AI Act). The AI Act will raise questions about the conformity of AI models derived from unknown sequestered datasets and how to entrust them. As it is doubtful that the AI industry will self-regulate, various actors in society will be unable to trust self-declarations of conformity. As companies and institutional actors will require valid, safe and certified AI technologies, we anticipate the emergence of a European certification scheme, possibly based on International Standards (e.g. ISO/IEC JTC 1/SC 42 Artificial Intelligence), that will require laboratories for operational testing. In this context, Idiap is well positioned, as it has skills and expertise in a large number of domains (e.g. security, human interaction, robotics, health) and also an international reputation, to lead an effort towards AI Safety and create an AI testing center. The center will support and benefit from all the Idiap Research Programs and will offer services to the Swiss Confederation and various stakeholders.
Center for Assistive Robotics
The Center for Assistive Robotics will conduct research in human-robot interaction with a focus on assistive robotics with mobile manipulators to support patients with diseases, disabilities, and older adults. This research will be grounded on social robotics principles and physical assistance, supporting physical therapy and environment manipulation. The research stems from Idiap's pioneering human-robot interaction work on robot-assisted therapy, end-user programming and learning from demonstration. We will have dedicated space to conduct user study and test robotic systems in a realistic environment which will also be used for multimodal data acquisition (sound, image) and as demo space to showcase Idiap's prototypes and systems (including static and mobile manipulators as well as social robots). The center will support both RP1 and RP3 and will foster collaborations within Idiap and with external partners.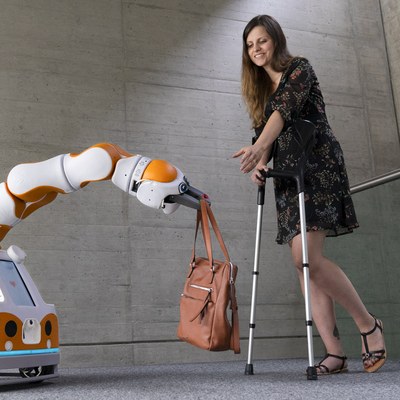 Center for Participatory AI
The Center for Participatory AI will enable the sustainable co-design of AI applications with a variety of actors, including citizen organizations, government, NGOs, educational representatives, academic partners, and companies. The values that will guide the activities are a people-first approach, high societal impact and sustainability, and the use of an open collaboration model based on co-design, open data, open software, open collaboration, and public communication. The center will establish creative partnerships, not necessarily driven by economics, to work on problems that local actors care about and for which human-centered AI can provide solutions. We envision two types of partnership: partners who can contribute financially to a collaboration, possibly including local governments, cities, NGOs, and companies; and partners who can contribute by helping to define community-based projects, providing work in the form of participation in various activities in the AI research pipeline. To support the activities of the center, we will use and further develop civique.org, a platform for mobile data collection for social innovation projects that has already enabled multiple studies involving smartphone data collection (surveys, media, and sensor data). This platform supported collaborations with a diverse group of partners, ranging from cities to academic and industry partners. Examples of impacts through this platform include evidence-based decision making by the City of Lausanne on street harassment, citizen science initiatives for the Corona Citizen Science project during the covid-19 confinement, and the identification of youth nutrition patterns in collaboration with Nestlé. The platform has also been used for teaching purposes (humanitarian technologies with EPFL). The center will support RP4.