« This place deserves to be welcoming »
The increase of the number of employees incited Idiap to recruit its own caretaker. Supported by two helpers for cleaning, he takes care of the building to keep it clean and welcoming. We followed him backstage to discover his work.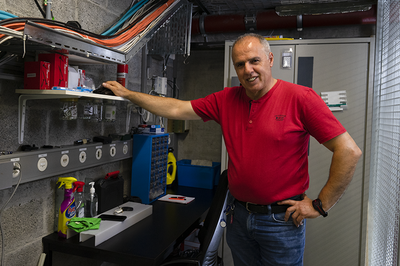 Ragip, Nazifa, and Nazmije's mission is to take care of Idiap's building, so everyone can feel well at work. After only a few weeks, their colleagues have already noticed their work. We followed them to understand their secrets.
How have you managed to have such a quick visible impact with your work?
Ragip: We were lucky to work in an almost empty building due to the confinement during the pandemic. It allowed me to clean the carpets using a heavy duty hardware. Then, the contract with the cleaning company ended and I was able to hire my two helpers at the beginning of June.
Nazifa & Nazmije: We helped to finish the cleaning all the way. We had to sanitize everything. We also installed closed trashes in the offices and paper recycling trashes.
Did you know Idiap prior to your application?
Ragip: Yes, I was in politics for 12 years in Martigny, so I know a lot about what is going on in the city. I've always considered Idiap as an exclusive place, at the forefront of technology. When I heard about the job opening, I took my chance and I quickly applied. The most difficult part was to wait for two weeks for the answer after my interview. For the record, I worked in the building before Idiap arrived. There was for example a night club in the basement on the hotel side of the building.
Nazifa & Nazmije: Not particularly, but we feel welcome. Ragip offered us to join him to work here.
What are your missions at Idiap?
Nazifa & Nazmije: In the morning, we clean the coffee machine, we check all the offices, and then we start to clean the toilets. It's a lot of work to have everything spotless on each floor. Sometimes, we are also in charge of the cleaning of Idiap's studios, when someone is leaving.
Ragip: We are working together, because it's a lot of work and it's going faster together. I also hope, that we will soon have some time to really clean the cafeteria's kitchen. There is a lot to be done there: we have to empty everything and scrub it all. Idiap is a place deserving to be clean and welcoming.