The Faces of Artificial Intelligence
A photography exhibition by Claude Dussez
For our 30th anniversary, we wished to pt under the spotlight people who are making Idiap. Scientists, students, engineers, admin people, all are part of this project. Their faces represent the human dimension of this project. Thanks to Claude Dussez's talent, this photography exhibition is a tribute to their contribution and a reminder of the central role of humans.
Dussez's work convinced us by his approach centered around on the spot portraits highlighting facial expressions. This approach allowed us to reveal people who make our institute. We hope that this exhibition will show you Idiap from another perspective.
The artist
Photographer, Claude Dussez lives in Martigny. He worked among other for the Paléo music festival and published several books. One of these books was dedicated to Swiss artists and another to Lake Geneva's shores. The collaboration with Idiap is his first experience in the scientific domain. We hope that this experience inspired him to continue in this direction.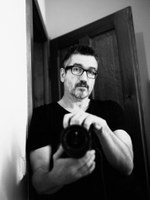 Telling the human story of a research institute facing people hiding behind screens is a hard challenge for a photographer. To avoid falling over and over in the same kind of framing, I had to look out for a gaze lost in the void while thinking or the gesture of a tense body or the subtle glint in an eye seeming to say: "Yes... that's it!"

Claude Dussez




Information
From September 11 2021 at Idiap.
Download the exhibition guide (in French).
Portraits are visible from the main hall and from upper floors.
Free entry during office hours (9h00-17h30), access map.
Some visitor parking spaces are available in front of the building. Please prefer car sharing and public transport to visit us.
This exhibition was made possible thanks to the support of our partners, FIDAG and Groupe Mutuel.