Civic Media, Mobile Crowdsourcing, and the Public Good: A Framework for Urban Data Science.
Prof. Daniel Gatica-Perez (Social Computing Group) gave a talk about his work in Latin America and Switzerland at the First European Seminar on Urban Data Science in Amsterdam.

The event, held on December 4, 2017, was organized by the Amsterdam Institute for Advanced Metropolitan Solutions (AMS), and gathered experts from academia, industry, and city offices working across disciplines, including geography, computing, and design.
Link to the event: AMS SEMINAR ON URBAN DATA SCIENCE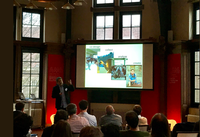 Credit: AMS Institute