Innovation Day 2018
Do you want to learn more about the hot topics of artificial intelligence? Meet with our researchers during our Innovation Day on Wednesday August 29th 2018 at the Idiap Research Institute in Martigny.
Idiap Innovation Day 2018 Webcast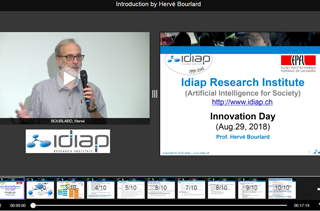 The Idiap Innovation Day 2018 in the media
www.20min.ch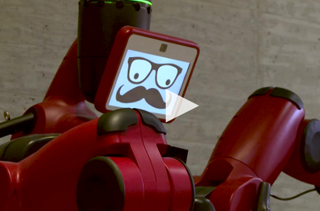 Le Temps: L'Idiap, joyau technolgique suisse méconnu
Le Nouvelliste: L'intelligence artificielle envahit notre quotidien
Canal9: l'intelligence artificielle en démonstration à l'Idiap de Martigny
20 Minutes: Le robot qui se souvient des humains qu'il croise
---
To find out about the research and application areas of our research groups, you will have the opportunity to see presentations and demonstrations, as well as the opportunity to do some networking with our researchers during informal talks and breaks.
Program
08:30 - 09:00
Registration & coffee
09:00 - 09:20
Welcome and Idiap in a nutshell by Hervé Bourlard
09:20 - 10:30

Research groups presentations and demos


Speech & Audio Processing by Mathew Magimai Doss
Robot Learning & Interaction by Sylvain Calinon
Machine Learning by François Fleuret

10:30 - 11:00
Coffee break and networking

11:00 - 12:10

Research groups presentations and demos


Uncertainty Quantification and Optimal Design by David Ginsbourger
Perception and Activity Understanding by Jean-Marc Odobez
Computational Bioimaging by Michael Liebling

12:10 - 14:00
Interactive lunch in the lobby (demos, posters, networking)
14:00 - 15:30

Research groups presentations and demos

Natural Language Understanding by James Henderson
Biometrics Security & Privacy by Sébastien Marcel
Biosignal Processing by André Anjos
Social Computing by Daniel Gatica Perez

15:30 – 16:00
Coffee break and networking
16:00 – 17:00

Invited Speaker

"Artificial Intelligence benefits and challenges for Airbus Defence C2ISR Portfolio (Command and Control, Intelligence, Surveillance and Reconnaissance)" by Olivier Volto, Airbus Corp